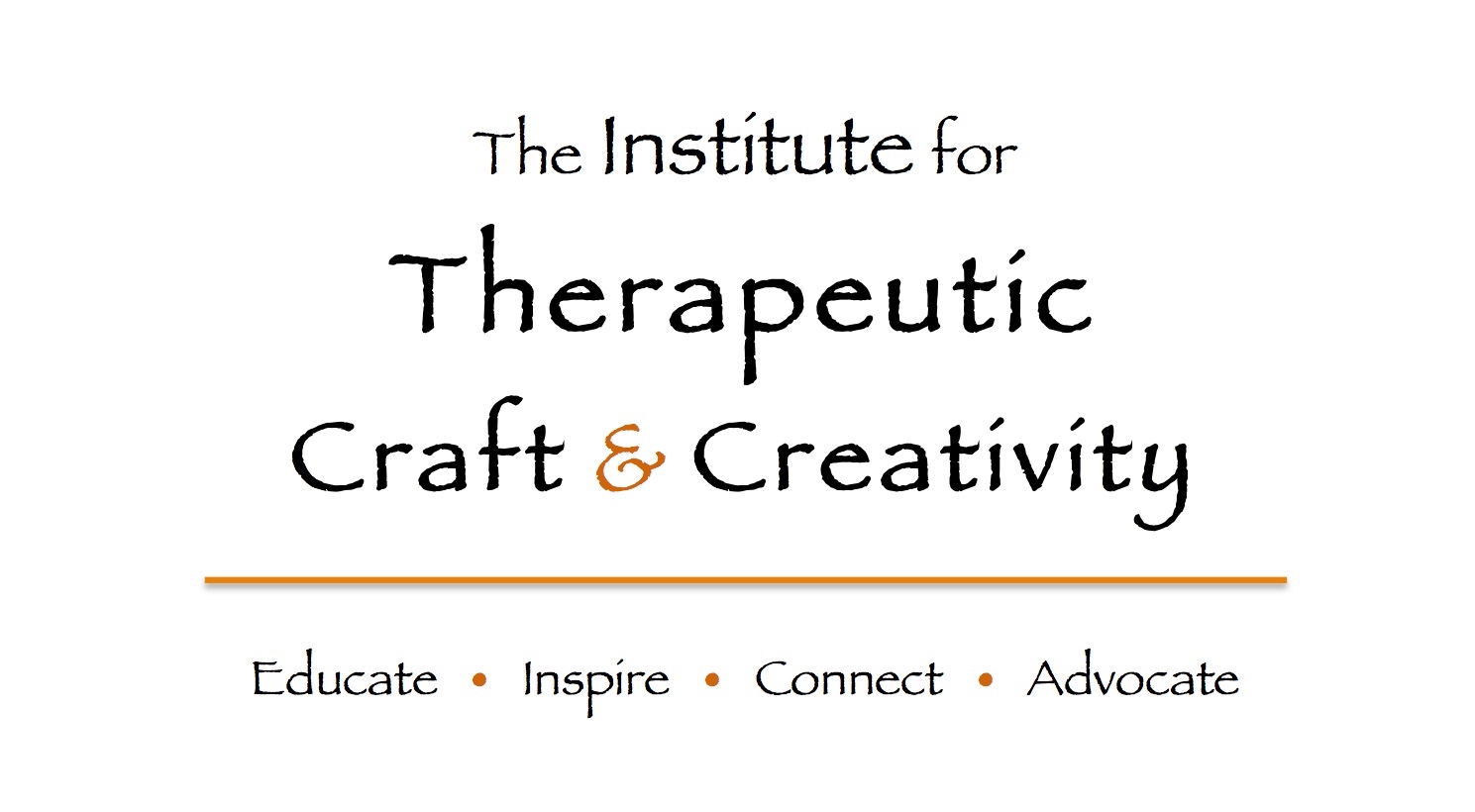 The Power Is In Your Hands

~ Welcome ~
The Institute for Therapeutic Craft & Creativity (ITCC) is an
educational resource and supportive community.
Our goal is to connect people and skills
that assist in transforming whole person health and well being
through the act and the art of creative handwork.
What creative makers have known, intuitively, throughout time
is that working with your hands makes you feel good.
Excitedly, we now know that the creative making process can be
specifically harnessed
to promote healing
biologically, neurologically, behaviorally, and socially.
That's pretty powerful stuff.

This means that creative handwork can be
intentionally engaged to deliberately affect change.
For example, to impact mood, alleviate stress and pain,
and help take a measure of control over some medical symptoms.
The magic of therapeutic making is all about creative process.
Whether you are seeking to engage therapeutic craft & creativity skills for
yourself or for someone in your care,
or perhaps you are an instructor seeking to share your skills and approach with others,
ITCC seeks to be your connective resource community.
Projects that we are presenting range from traditional handcraft in all materials
to fine art, music and sound therapy, culinary arts, body movement, and written expression.
The creative approaches and therapeutic techniques presented here are
developed through research, study, and practice by
experts in their respective fields.
Importantly, ITCC courses are not tutorials on how to learn specific crafts.
Rather we provide guidance for how to specifically utilize and adapt
basic skills in a variety of materials for therapeutic benefit.
Beginners are most certainly welcome.
ITCC projects are being developed for people of all ages
and developmental stages,
from young children through community elders.
Can You Knit A Healthy Brain?
For our inaugural course, ITCC presents "Can You Knit A Healthy Brain?"
which is focused on Therapeutic Knitting.
The course consists of 20 education modules (video and audio)
delivered by path-breaking expert Betsan Corkhill.
We begin with Therapeutic Knitting because it is a
powerful and easily accessible skill,
quickly applicable to a vast cross-section of people
of any age, gender, and economic level, and can be done in any setting.
Therapeutic Knitting is inexpensive, quiet, lightweight, and portable,
requiring nothing more than "two sticks" and a ball of yarn.
Have a look at our course here.
Be sure to check out the 5-minute intro video featuring Betsan
and please sample the three - free - course segments
to decide if it's right for you or someone important to you.
educate • inspire • connect • advocate
Educate
We are continually developing a variety of courses and other resources focused on the therapeutic benefits of the hand-brain connection and the valuable benefits of creative making, whether in solitude or together with others.
Please check back as we make new additions to our current and upcoming courses and community resources. If there is something specific you would like to request, please send us an email: [email protected]
ITCC is designed to inspire you to take control of your own well-being in a creative, productive manner. Maybe you prefer to do so quietly and in your own space, or maybe you want to engage with others in a social setting.
Perhaps you'd like to incorporate these creative techniques into other therapeutic programs - for your own wellness or as an instructor. Wherever you are on your path, we hope to serve as your resource, your guide, and your inspiration for taking the next best steps in gaining a greater sense of your own personal strength and wellness and sharing it with others.
If there is someone whom you'd like us to inspire, please email us: [email protected]

Connect
Forming connections is a vital part of ITCC's mission. Linking creative wisdoms to people in need, linking learners to teachers, and providing a potential bridge to self-growth through independence and entrepreneurship are connections we hope to make.
ITCC believes that cultivating skills to develop a greater sense of well-being can spark a desire for continued growth and development, and possibly even serve as a means to pivot forward toward your own greater economic independence.
Perhaps by cultivating your skills, you can also learn to become a teacher, to share your knowledge and spread the skills of therapeutic craft & creativity in your own region of the world.

If this is something you would like to explore please let us know, as we will be developing processes for teacher development: [email protected]

Advocate
ITCC advocates for creative therapies to be adopted by individuals for self-care or to help others in their care, as well as to be adapted by clinicians and medical professionals as valued therapeutic modalities to enhance the effectiveness of standard care. ITCC believes that the most effective care includes whole person health protocols.
If you are a patient who would like your healthcare provider to be more aware of the benefits of therapeutic craft & creativity, please send us the name and email address of the provider and we will reach out to with follow-up information.
If you are a healthcare practitioner or care-giver and would like more information on how you can incorporate therapeutic craft & creativity into your practice, please email us: [email protected]
ITCC, in itself, is a creative work in progress.
We invite you to join us and share in the journey.
For you, and for us, it all starts here and now.

To share your thoughts, reach out to [email protected]